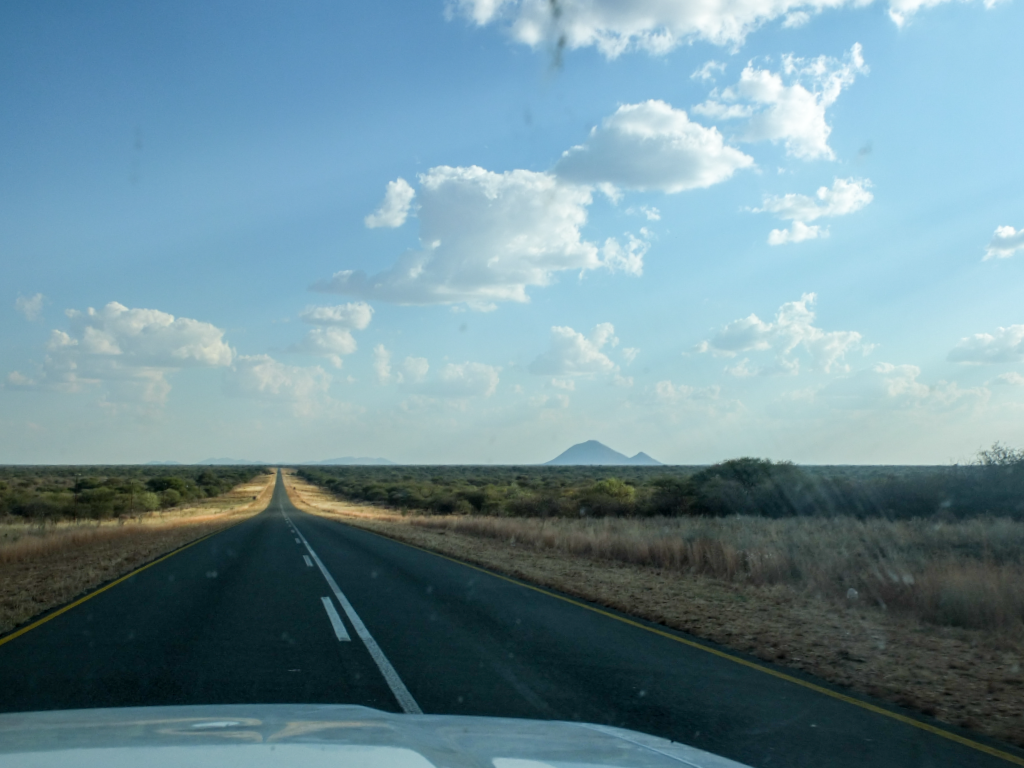 Tsumeb to Omaruru

My homeward journey began once I left Etosha. In my pickup, slowly making my way south, endless long straight roads through the African Savannah. Local music on the radio , setting sun turning the sky orange. Straight roads. It is pleasant stuff. 

My first town out of Etosha was Tsumeb, a small mining town in the central north Namibia. Looking for a safe park, I followed a sign saying Arts Centre. I parked and wandered into the compound.
Through the gates I was confronted with a circular array of round thatch roofed rondavel huts. A large stage was set amongst a beautifully landscaped garden complete with lifesize sculptures of hunting San Bushman.

"Welcome" was the greeting and before me stood a small man with tightly curled hair. " This is our local performing arts centre, can I show you around". For sure :) My host proudly introduced himself as Heke, the Gardener of this beautiful oasis and a local San Bushman. Heke explained how each Rondavel hut was the teaching room for A particular instrument. He proceeded to take me from the recorder room to the clarinet room to the violin room and so on. I was introduced to each teacher. Initially set up with sponsorship from a Swiss benefactor, the project was to offer musical and art opportunities to the local children. Heke described how each afternoon over two hundred children participated in learning the different instruments and disciplines. I can only imagine the afternoon sounds.
I found Tsumeb to be a really busy and vibrant small town set in amongst green trees and watered lawns. A big street veggie and fruit market was underway with heaps of people milling around, a guard in front of the bank with a AK47 pointing down at his side. Plenty of elderly walking the streets dressed in traditional dresses and head scarfs.
I sat down with a grass bowl weaver and her small children. So cute , trying to sell me their wares. It worked , just too cute. They gave me some sweet berries from the tree, sort of like a tart passion fruit flavour with a large pip. The mother telling me their traditional Ovambo names.


Further down in the town I found a well known arts and crafts shop. Brigitte, the owner, told me how her parents had started the shop in the eighties to promote the work of the local indigenous groups and how the first Namibian President, Dr Sam Nujoma, had visited the store. It was filled with the usual assortment of crafts but with it came the stories of many of the makers which is the backstory I am always after. I could not help but collect more bits of carved wood to add to the grass bowls from the morning. Brigitte's mother, the originator of the store, came by. She was a similar generation to my Oma, and although she had not known her, she had friends in common and well remembered the hotel in Okahandja my grandparents owned. A small world.
At the back of the store sat an older women beading with grandkids hanging about after school.
I didn't want to leave this cute town.
The wild animals start darting across the road as the day ends. I saw Kudu, deer, foxes, and warthogs. Unluckily I collected a small warthog heading late into Waterberg. I couldn't miss it as it just ran across the highway, I swerved big time but still collected it and narrowly missed the large mother, which would have been another story for sure. I had not gone much further when another large warthog just barrelled straight across the road. It gets dangerous.
The wildlife is never far away here. It is part of this landscape.

Late on my second day I made it back into Omaruru. I relaxed here for a couple of days. I have made a point of not rushing! It is more enjoyable.

I had a great day in Omaruru. The local women in the Slagtery (butchery) and the supermarket all wanting to come to back to n.z with me. Traditional society here is not strictly monogamous, but I don't think I could handle it :) I promised to send postcards!
Anyway it was sweet to have fun with the locals.
I cooked a feast for my hosts and their guests, my infamous Tagine array, but this time with a wild game oryx curry as a side dish. It took me all afternoon to cook. My hosts housekeeper, Julia, helped me try this exotic dish. She spoke no English, but somehow cooking crosses language barriers. We had a great time before Julia and her groundsman son Colin returned to their township homes, another day's work done.
My  hosts here in Omaruru, by opening up their oasis of a house to me, really allowed me the space to relax and enjoy my time in Omaruru.
Thanks heaps Wendy and Heine, I hope I can return the hospitality.


My final day in Omaruru dawned hot and sunny again. It is this way 350 days of the year. It is just so dry, that it is now getting into serious drought conditions.

One more stop in Omaruru was to visit the writer Jean Fischer. I had been given her number by the poet Mvula Ya Nangolo in Windhoek. I was hesitant but was so glad I did as it turned out to be such a positive afternoons conversation that I felt it was such a good way to finish the trip to my birthplace.

Jean, a journalist originally from Cape Town has lived and worked in Namibia her entire career. She has witnessed the transition from oppressive apartheid regime to independent liberated nation. A longtime supporter of the Liberation struggle she expressed such a sense of pride and elation at this fledgling country and how it has broken the shackles that imprisoned it. We shared so many similar values, it was refreshing. It showed me how in amongst all the old attitude which gave silent support to the apartheid regime, there still existed voices who opposed the status quo. Free thinkers who place their values as a statement of who they are. No silence needed. Not an easy task when surrounded by friends and family who differ in opinion. It was just such a refreshing conversation and we could have talked for hours. Thank-you Jean, it was a great way to finish my stay in Omaruru.


My last stop was to visit the graveyard to say my goodbyes to my Opa. I have been visiting for a sundowner each night I have been in town. The desert has long ago claimed his dust, but I still enjoy sitting and chatting over a Windhoek draught as the sun sets. Somethings don't need to change.